New Perspectives in Art History Lecture Series 3
From Euromodernism to Transmodernism
Christian Kravagna, Professor of Postcolonial Studies at the Academy of Fine Arts in Vienna
Åben forelæsning 17.15-18.30, Den Hirschsprungske Samling efterfulgt af et glas vin.
Open talk 5.15 to 6.30, The Hirschsprung Collection followed by a glass of wine.

The history of modern art has been written predominantly as a European and later on North American affair. For most of the 20th century, Western art history writing was in line with the Eurocentric epistemologies of the colonial era. Only recently, alternative accounts of modern art – e.g. "global art history" or "world art history" – gained more attention in Western art museums and academic art history. However, the question of how to rewrite the history of modern art from a post-Eurocentric perspective, without merely adding other regional art histories to the established canon, has not yet been satisfyingly answered. In this talk Christian Kravagna proposes an art history that explores the historic entanglements of Western and non-Western modernisms. He emphasizes the formation of a transmodern impulse in art and cultural theory in the context of 20th century decolonization movements and anti-racist movements in Europe and the United States. Besides considerations on method and theory, this talk will discuss Hale Woodruff's murals for Atlanta University as a striking example of a mid-20th century Black artist's counter-history of modern art.

Join us for a glass of wine after the talk. The museum stays open until 7:15.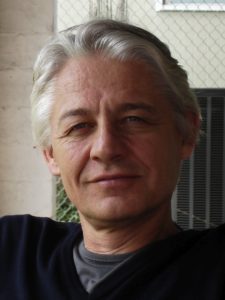 Christian Kravagna is Professor of Postcolonial Studies at the Academy of Fine Arts in Vienna. He is the author of Transmoderne: Eine Kunstgeschichte des Kontakts (Transmodern: An art history of contact), 2017, and (with Cornelia Kogoj) Das amerikanische Museum: Sklaverei, Schwarze Geschichte und der Kampf um Gerechtigkeit in Museen der Südstaaten (The American Museum: Slavery, Black History and the Struggle for Justice in Museums of the South), 2019. Among other volumes he edited The Museum as Arena: Artists on Institutional Critique, 2001, and co-edited Transcultural Modernisms, 2013. Between 2005 and 2014 Kravagna was artistic director of Kunstraum Lakeside in Klagenfurt (with Hedwig Saxenhuber). He curated several exhibitions in Austria, Germany, Slovakia and India on issues of migration and globalization. He is currently working on a book which explores the relations between Austrian and African American artists and intellectuals between the two world wars.