The Art of Tantra Massage - Aarhus - special workshop for women
30 jan 2020 17:00 - 19:30
with Bagala and Lotus
Come and join us for a special workshop, tailored in particular for women who want to understand and experience what's it like to be a tantra masseuse. Men are most welcome to join, especially since this time they have the opportunity to look with eyes filled with adoration and wonder as the feminine mystery unfolds.
Tantra Massage is one of the most refined and sensitive forms of art. It is fascinating in the way it appeals to the all the senses, emphasizing on conscious touch. It is mind blowing by relating directly and intensely to our emotions and invisible energetic structure, being able to heal tensions and traumas. It is expressed through deeply connecting and intimate massage that touches both our body and soul, helping us to align our sexuality with our love and our spirituality.
As an artistic expression, for a genuine Tantra masseuse the work is to be lucid and self-aware, as well as able to put aside personal inhibitions and concerns, embracing her own femininity, enjoying the present moment and being a radiant channel of love and relaxation. The aim is to help the man relax and let go of his own preconceived ideas and mental patterns, reconnecting to his masculine essence. Basically, it brings us in contact with our inner core, where we discover the fastest and most enjoyable path to genuine self-love.
Such an openness and exploration through the senses, and particularly through loving conscious touch, includes the enjoyment of our erotic energy, channeled as a delightful fuel that awakens our heart and soul, on a completely different level than we are normally used to, and going beyond our daily ordinary selves, reconnecting to the higher source.
What will you learn in this workshop?
What is conscious touch
Understanding the basics of Tantric massage
How does it feel when giving Tantric massage as a woman
How does it feel when receiving Tantra Massage as a man
How Tantra Massage is a powerful tool for self-development
How to feel and nourish a man's heart and emotions through touch
How you can become a skilled tantra masseuse yourself
About the teachers:
Bagala is one of the enthusiastic teachers in our Tantra Massage Education  in Denmark. Read more about it here: https://tantra-temple.com/tantra-education/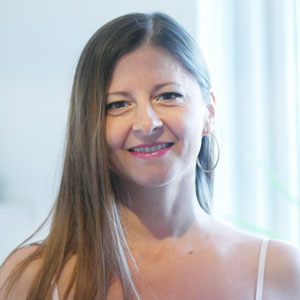 Bagala is a highly experienced Tantra masseuse and teacher, with background as professional ballerina. She has been studying and teaching Tantra in Denmark and Sweden for more than 10 years. In the past 20 years she gracefully combined notions of tantric knowledge in her dancing expertise, using her feminine creativity and sensuality. She inspires both women and men to evolve spiritually through her intense presence and ability to relate directly from the heart.
Lotus
Lotus is passionate about spirituality, femininity, dance, and creating human connection and intimacy. She has an academic background in healing and trauma rehabilitation in conflict societies, is a certified Tantric Journey therapist, and an Erodanza facilitator (a transformational dance course for women). She has also been a student in our Tantra Massage Education. Currently she studies Tantra Yoga and works at the Tantra Temple, as a tantric masseuse, where her love for healing, human closeness and spiritual practice, unite.
Conscious relating at the heart is a practice of love. When we relate to the other in alignment with our own inner truth, (with our boundaries, what we feel and what we need) we allow space for Love to naturally appear and exchange between us.
Practical details
Price: 225kr/person (200kr for members)

Language: English

The Art of Tantra Massage - Aarhus - special workshop for women
Vill du gå på fler events?
Registrera dig för att få handplockade events direkt till din mail.